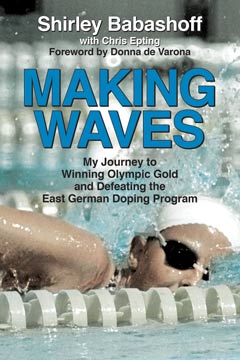 Author Information
Shirley Babashoff
Shirley Babashoff is an American Olympic champion swimmer. In her extraordinary career, she set six world records and thirty-seven national records and earned a total of eight individual Olympic medals. She won a gold medal in the 400-meter freestyle relay in both the 1972 and 1976 Olympics, and four silver medals in the 4 x 100 meter medley relay and the 200-meter, 400-meter and 800-meter freestyle. She also won the 1975 world championship in both the 200-meter and 400-meter freestyle. Prior to the 1990s, she was the most successful U.S. female Olympian and, in her prime, was widely considered to be the greatest female swimmer on the planet. Babashoff is perhaps best remembered for swimming the anchor leg on the gold-medal winning 4×100-meter freestyle relay team in its victory over the steroid-plagued 1976 East German women, in what is widely acknowledged to be the single greatest race in the history of women's swimming. She was inducted to the International Swimming Hall of Fame as an "Honor Swimmer" in 1982. Babashoff lives in Fountain Valley, California, where she has been a letter carrier for the U.S. Postal Service for nearly thirty years.
Chris Epting
The author of 30 travel and history books, including James Dean Died Here, Led Zeppelin Crashed Here, Hello It's Me, and many others, he is also an award-winning travel writer and has contributed articles for such publications as the Los Angeles Times, Westways and Travel + Lesiure magazine. In addition, Epting is a veteran music journalist and recently co-wrote Def Leppard's Phil Collins memoir, Adrenalized, and the John Oates memoir Change of Seasons. He is the creator and one of the hosts of the new docu-drama series on the REELZ Channel, "It Happened Here." Originally from New York, Chris now lives in Huntington Beach, California, with his wife and their two children.
Donna de Varona
Donna de Varona is an American Olympic swimmer who set eighteen world records and won multiple gold medals during her career. In 1964, the Associated Press and United Press International voted de Varona the "Most Outstanding Woman Athlete in the World." After retiring from swimming, de Varona became a sports broadcaster. At the age of seventeen, she appeared on ABC's Wide World of Sports, becoming the youngest and one of the first women sportscasters for a national network. Her groundbreaking career has earned her an Emmy, two Gracies, and the opportunity to cover seventeen winter and summer Olympic games. She was inducted to the International Swimming Hall of Fame as an "Honor Swimmer" in 1969.
Reviews
"Making Waves is a fascinating, complete testament to a true Olympian who showed extraordinary skills in the pool and raw courage outside it, and was years ahead of her time to realize that something was very wrong with the way athletes in certain countries were being prepared to compete on the world stage."
— Montreal Times
"Babashoff is a pioneer of the most painful kind: one of the first athletes to be cheated because the competition was using performance-enhancing drugs. . . . The IOC doesn't have a time machine. It can't take Babashoff and other athletes back four decades and give them the golden moment they deserved. They can, however, give her the gold. And they should."
— Newsday
"Doping remains the scourge of sports, poisoning the concept of clean competition. . . . In contrast to athletes in other sports, Babashoff and other swimmers beaten by competitors who doped have not received the medals they earned. Many wrongs were perpetrated on them that have never been made right."
— New York Times
"After four years of swimming twenty miles a day, seven days a week, training with a men's team to push herself, Babashoff was branded a disappointment and a poor sport. All because the nineteen-year-old was smart enough to see the East Germans for what they were—and audacious enough to call them on it when no one else would."
— USA Today
"Shirley Babashoff was our star going into those games, possibly the greatest female American swimmer ever. . . . She was as competitive, talented and relentless an athlete as America has ever produced. She received one gold medal (a relay), five silvers, a thousand taunts and insults and many death threats."
— Scott Ostler, San Francisco Chronicle
"In hindsight, the coaches should have been the ones speaking out, but it was considered 'unsportsmanlike.' Shirley paid the price for having the courage to tell the truth. . . . She'll be remembered as the victim of cheating that never got the timely recognition that she deserved. I believe the records should be adjusted, as there is definitive proof of systematic East German cheating."
— Mark Schubert, former Babashoff coach and current head coach and general manager of USA Swimming's national team
"In 1976, Olympic swimmer Shirley Babashoff had the ability to equal Mark Spitz's legendary seven gold medals, had she been competing on an even playing field. Sadly, the competition was not fair and the media chose to ignore the truth, and Shirley's inability to conceal her disappointment made her the biggest victim of those Games. In Making Waves, she gets to balance those scales with a poignant and revealing memoir. Shirley deserves this hearing and through her insights and observations, you'll learn more about this remarkable heroine than has ever been revealed before."
— John Naber, 1976 Olympic swimming teammate
"Shirley Babashoff was visibly robbed of Olympic gold medals in 1976 and publicly humiliated in the media. She was the first athlete to accuse the East Germans of doping, but the world was not ready listen. Forty years later, Chris Epting finally tells the truth for the world to hear."
— Brent Rutemiller, publisher of Swimming World
"Shirley should have the gold medals—she's one of America's greatest athletes ever and she had a lot of guts. Even today, athletes won't speak up for fear of being called a sore loser, but that didn't stop Shirley."
— Jill Sterkel, part of the storied 1976 relay team that defeated the East Germans, now coordinator of athletics at the University of Texas
"I totally applaud what Shirley Babashoff did. It was the right thing at the right time, and looking back, it had a tremendous effect."
— John Carlos, U.S. sprinter who, along with Tommie Smith, raised a black-power salute on the medal podium at the 1968 Olympics in Mexico City
http://santamonicapress.com/wp-content/uploads/2016/01/Making-Waves-Final-Revised-small.jpg
360
240
Eva Crawford
http://santamonicapress.com/wp-content/uploads/2015/11/SMP-Logo-Color-Side-1.png
Eva Crawford
2014-11-10 00:00:56
2019-05-09 03:41:51
Making Waves: My Journey to Winning Olympic Gold and Defeating the East German Doping Program