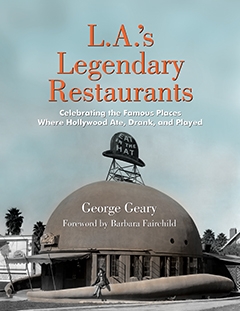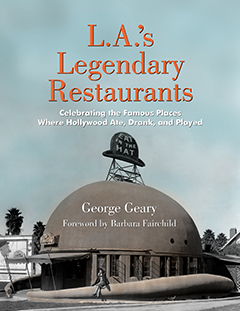 Author Information
George Geary
George Geary is an award-winning chef, best-selling author, and renowned educator. A former pastry chef for the Walt Disney Company, Geary is a Certified Culinary Professional, and was recently chosen as the Culinary Educator of the Year by the International Association of Culinary Professionals. He is perhaps best known for creating all of the cheesecakes for The Golden Girls and other top-rated television programs. Geary has worked as a critic and/or judge for ABC's The Taste with Anthony Bourdain, The American Baking Competition with Jeff Foxworthy, Hell's Kitchen, Supermarket Superstar, and many other popular television shows. He also teaches cooking classes aboard Holland America Lines.
For over thirty years, Geary has been a culinary contest judge for major food manufacturers such as Canola Producers, Veg-All, Hormel Foods, the Hershey Company, Knott's Berry Farm Foods, Ghirardelli Chocolate, Fleischmann's Yeast, the San Diego Union Tribune, ABC News, and many more. From 1982 to 2010, George was the culinary coordinator of the Los Angeles County Fair.
Geary is the author of L.A.'s Legendary Restaurants, as well as nine cookbooks including The Cheesecake Bible, The Complete Baking Cookbook, and 125 Best Cheesecake Recipes. He is presently the featured chef on the San Diego Living television show on the CW Network. Geary lives in Los Angeles.
Reviews
"Anybody who remembers (or wants to time travel to) the glory of Imperial Los Angeles of the mid-twentieth century will want to grab a bowl and start whipping up a batch of Hamburger Hamlet's Onion Soup Fondue or that hot fudge sauce from C.C. Brown's. . . . The book augments impossibly rare photos of Walt Disney at the Tam O'Shanter, Lucy & Desi at the Brown Derby, and Orson Welles at Ma Maison, plus matchbooks, menus, and swizzle sticks sprinkled throughout that help make these old joints jump from the page."
—Los Angeles Magazine
 "George Geary takes readers on a journey to where the rich and famous ate in the golden age of Hollywood in this illustrated history of Los Angeles's landmark eateries. From Trader Vic's to Perino's, there are stories to tell and food to talk about."
—National Culinary Review
 "In his new book, L.A.'s Legendary Restaurants, George Geary pays homage to the spots Tinseltown's elite once frequented. He also shares recipes for classic dishes like the Brown Derby's cobb salad and the C.C. Brown's 1909 brownie sundae."
—KCRW
"A beautiful ode to La La Land's restaurants and bars."
—TheDailyBeast.com
"L.A.'s Legendary Restaurants celebrates Hollywood's famous culinary landmarks, reminding us of the breadth of cultural pleasures the city has to offer."
—Los Angeles Review of Books
 "From Musso & Frank Grill in the 1920s, to Ciro's in the mid-twentieth century, to Spago in the 1980s, Geary gives readers an insider look by providing little-known facts and anecdotes of these legendary restaurants, many of which no longer exist."
—AirTalk with Larry Mantle
"A time capsule for any fan of retro Hollywood."
—Parade
"It's sheer indulgence in the romance and glamour of Hollywood in the golden era. The Brown Derby receives a lovely long photo spread revealing just how beautiful Loretta Young was in 1931 and how handsome Clark Gable was in 1938. I love Angela Lansbury intently sucking her straw at Schwab's after the opening of 'The Picture of Dorian Gray' in 1945. The glamorous types liked to eat!"
—KarenTripson.com
"This beautiful book is not just full of recipes, but also memories, original menus and pictures of Hollywood's elite dining at their favorite spots."
—TheRecessionista.com
"Geary sprinkles tinsel town trivia, cinematic facts, good ol' gossip and trends of the times on top of exclusive restaurants, popular hot spots, drive-ins, drugstores, nightclubs and bars. Fun facts include Charlie Chaplin challenging Douglas Fairbanks to a horse race down Hollywood Boulevard, of which the winner was treated to lunch at the Frank & Musso Grill (Chaplin wins)."
—SDNews.com
"Geary gives us an insider's tour of Hollywood through its restaurants, sprinkling in fun facts and trivia such as where a table was sawed off to accommodate a pregnant Lana Turner, to the soda fountain where composer Harold Arlen wrote 'Over the Rainbow' for The Wizard of Oz."
—EdibleIndy.com
"Geary spent the last four years digging up trivia, timelines and recipes from forty-three restaurants that fed the rich and famous, and provided a snapshot of California cuisine at that moment. . . . More than 100 recipes and tons of archival photos of restaurant interiors, menus, advertisements and famous clientele such as Lucille Ball and Rock Hudson."
—TheStar.com
"Even though some of these restaurants opened before I moved to the United States, I appreciate the style and flamboyancy of these historic establishments. They paved the way for Nobu restaurants and I am honored that the old L'Orangerie restaurant is now Nobu Los Angeles. The book is fantastic and a must-read."
—Chef Nobu, Nobu and Matsuhisa Restaurants
"The wake of Tinseltown's heyday left behind some of the most iconic art and culture in American history. This is the perfect book for the food-obsessed who are also romanced by L.A.'s rich history."
—Curtis Stone, chef and restaurateur
"This is a wonderfully evocative look at L.A. dining in an earlier time—and a reminder of how many good and imaginative restaurants the city has had, and how much fun it was to eat in them back then, before the era of restrictive diets and hipper-than-thou cuisine."
—Colman Andrews, editorial director of TheDailyMeal.com
"The best of L.A.'s food history is all bound together in George Geary's remarkable book. Our restaurants in Los Angeles would never exist without these legends."
—Jon Shook and Vinny Dotolo, Los Angeles chefs and restaurateurs
"George Geary's book is a retrospective sublimely rich in history and flavor. It is a testament to L.A.'s diverse cornucopia of cuisine."
—Suzanne Tracht, executive chef and owner of Jar
"From the Googie-inspired diners to the wholly fictional 'South Seas' of Don the Beachcomber and Trader Vic's to the movie star hangouts of the Brown Derby and Chasen's, L.A.'s Legendary Restaurants is a giddy, celebrity-filled look back at the culinary scene of twentieth century Los Angeles. I dare you to read this book and not feel nostalgic for those days."
—Russ Parsons, former food editor of the Los Angeles Times
"A splendid ride through Old Hollywood! George Geary entices our sense of taste with his descriptions of famous dishes and recipes from L.A.'s classic restaurants and our sense of adventure with his antic tales of Golden Age celebrities. For me, the best part was the sense of preservation in the descriptions, facts, architect listings, and pictures of the fabulous buildings that housed these iconic restaurants, many of which have been lost to time."
—Joselle Celine Gilvezan, historic preservationist
http://santamonicapress.com/wp-content/uploads/2014/11/legendary_restaurants.jpg
311
240
Eva Crawford
http://santamonicapress.com/wp-content/uploads/2015/11/SMP-Logo-Color-Side-1.png
Eva Crawford
2014-11-30 00:00:58
2020-01-31 16:50:26
L.A.'s Legendary Restaurants: Celebrating the Famous Places Where Hollywood Ate, Drank, and Played